About
Gardivalia was established in 2006 to showcase the many beautiful gardens in West Gippsland and to promote tourism in the region. It was initially affiliated with the West Gippsland Gourmet Country Tourism Association and has now grown to become a major event in West Gippsland.
The Gardivalia committee consists of a small group of volunteers from all walks of life who devote hours of their time and resources. The more volunteers we have, the less work each one has to do.
Gardivalia is supported by many diverse community groups who take the opportunity to stage demonstrations, workshops and art exhibitions and displays with a garden related theme.
Our major sponsors are: Baw Baw Shire, The Gazette, Bendigo Bank: Neerim South and Harcourts.
In 2016 the following organisations have supported our raffle:
John Patrick of ABC Gardening Australia fame and director of John Patrick Landscaping Architect Services is patron of Gardivalia.
"Garden festivals offer wonderful opportunities for the community to celebrate the achievements of local gardeners who take immense pride in their creations. The Australian environment is rarely kind to gardeners yet this doesn't discourage them and the results are often breath-taking," says John. "For the garden visitor, every garden will teach them something, perhaps about plants, design ideas they can reinterpret in their own garden, perhaps only the fact that gardeners, by being involved with the soul, have wonderful spirits and a sense of reality. Gardens allow us to understand and enjoy the changes to the seasons and more fully appreciate the subtleties of our world and because nature always has the last word, it teaches us humility."
Our vision:
To create Gardivalia as the premier festival in Victoria
To promote tourism and the gardens of West Gippsland.
Our committee is committed to providing a quality garden festival experience to the increasing number of visitors throughout the region, Victoria and interstate. To that end a criteria has been set for the standard of gardens involved in the festival.
In 2015 we won the Baw Baw Shire 2015 Community Event of the Year: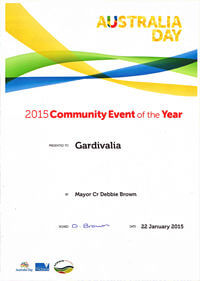 In 2016 we were granted a Baw Baw Shire Community Development Award: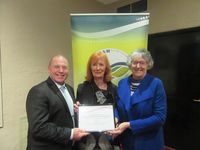 Mayor Joe Gauci presenting the award to Gardivalia president Jan Wishart and Gardivalia secretary/publicity officer Maree Wallace..
Gardivalia did not run in 2020 and 2021 due to Covid lockdowns. It will not run in 2022 due to Covid and the lack of volunteers. We hope these issues will be resolved so that we can again put on a Festival in West Gippsland in 2023.